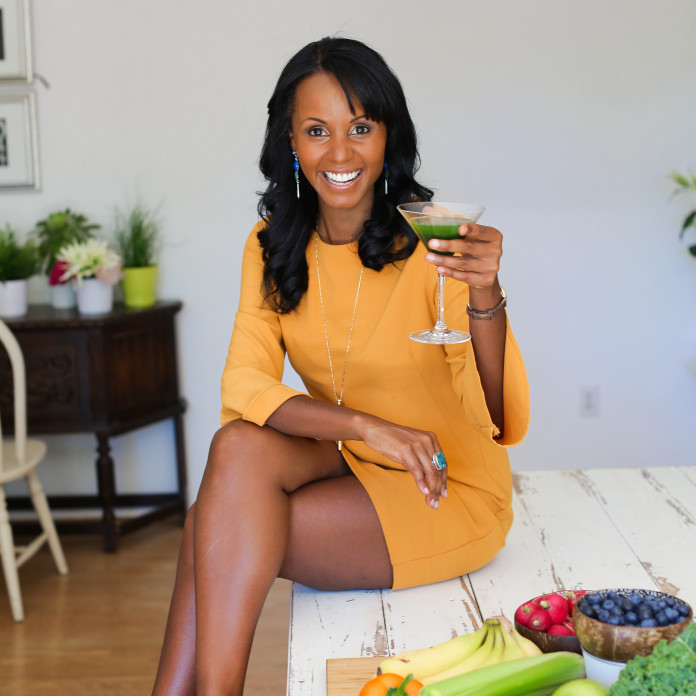 I'm an entrepreneur, wellness expert, and healthy living advocate and how I got here is a fairly long journey, one that took a little longer than the average entrepreneur. And that is because, while I felt the passion, the calling, I couldn't take the leap and make the change because most of my life, I equated change with failure.
I had a fancy job, working with fancier singer-songwriters like Beyonce or Billy Joel. I climbed the corporate ladder, eventually making it to a coveted title of VP of a large, multinational music company. But I was emotionally and physically out of whack! I was feeding my body average, not so great food, I was feeding my mind and soul average, not so great thoughts.
And that's when my body gave me a "kick in the butt". First it was an ulcer, then colitis, then fibroids the size of oranges. I was sick, I was stressed out, achy, I was angry and of course, after all this, I was feeling like a failure.
BODY
It was this experience with disease that forced me to rethink failure in a more tangible way. I could change my career choices, my relationships but my body was a different story. This body was my home and the only one I had. I couldn't abuse and destroy it like I would a car and just get a new one tomorrow. I needed to change my path once again but this time for the first time in my life I had control over the choice. I could control what I put in and on my body and mind, and that could make the difference between failing yet again or triumphing.
PASSION
This became such a passion for me that I started devouring books, tapes, taking courses, researching, using my body as a guinea pig. I so wanted to find a solution, to heal my body that I ended up trying dozens of alternative therapies. I tried it all: Green juicing, acupuncture, Ayurveda, detox cleanses. I practiced yoga; I tried Gerson therapy. I learned in a very scientific way: I tried different things, tested them, kept track of what worked and what didn't work.
"I learned that what you feed your body and mind can help you heal and thrive or can destroy you." – Jovanka Ciares
LIFESTYLE
I took from each tradition and pieced together a lifestyle that helped me heal. I became more educated and loved this new process that required constant changing.
My 10+ year journey towards disease and back helped me understand myself and more importantly, the world around me. I started to question common sense ideas that somehow we ignore or take for granted.
Common sense and my own experience tell me that if I put cheap gas and low-quality oil in our brand new Mercedes Benz, that car won't last us that long. Why on earth is it so hard for us to believe that it won't be the same with our bodies?
So I change my path, I left a seemingly cushy job to become a healthy living advocate. I started writing, sharing my journey, teaching others.
KNOWLEDGE
I teach people to take the power back! No longer should you blame your genes, your destiny, your childhood lifestyle. You came into this world with natural curiosity, with the ability to accrue knowledge and resources. You can't be spoon fed any longer. You need to start acting today if you want to increase my longevity.
I teach people that their bodies are like a luxury vehicle. And the only home you have to live in and that if that "home" crumbles, it would cost you greatly to bring it back together. And truth be told, you wouldn't vandalize luxury Mercedes on purpose yet you continually attack yourself, sabotage your amazing body (imperfect as it may be), with your food choices and even your thought choices.
WELLNESS
Today I'm a wellness expert who inspires people to change because I understand it to be a good thing. I may need to change again and again but if I do, I won't be afraid because the avenues of curiosity and knowledge have opened up and have led to freedom and wisdom and a highly fulfilled life.